Dairy farming is always going to be hard work, but the right equipment makes life so much easier – not to mention more profitable.
Suppliers of dairy farm equipment
Based just outside of Stroud, WDSL supply equipment to the dairy farms of Gloucestershire, the surrounding counties, and South Wales. Trading since 1976, there isn't much we don't know about dairy equipment.
We can supply all the equipment a modern dairy farm needs, including:
complete parlours
stall work
milking equipment
fans
bulk tanks
water heaters
feeders
liners
milk shuttles
teat spray
udder wash
cluster washing systems
herd management software
If there's something you need that isn't on the list, chances are we can get it for you. Just contact us and we'll be happy to help.
Market-leading manufacturers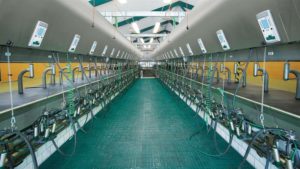 WDSL have long established links with manufacturers with international reputations. We are dealers for some of the most innovative and technically accomplished dairy equipment companies, such as GEA, Boumatic and ATL Agricultural Technology (see the text box for details).
Technologically advanced, well-designed equipment brings a host of benefits to dairy farms: better hygiene and equipment longevity, gains in efficiency, increased udder health, lowered stress for animals and of course optimal milk extraction and so on.
WDSL also manufacture their own backing gates and cluster washing system. These cost-effective solutions have proven their effectiveness in hard-working dairy farms – you can find out more on the WDSL products page.
The Urban milkShuttle
We now supply this incredible German-engineered electrical milk shuttle that takes the strain out of feeding your calves.
Visit our Urban milkShuttle page for details.
Expert equipment advice and service
Dairy farm equipment is a costly investment, and making the right choice isn't always straightforward. Fortunately, we have the experience to help.
Operational since 1976, there isn't much we don't know about milking and other equipment. And as members of the MEA's voluntary Parlour Safe scheme  we're dedicated to keeping abreast of the latest developments, and to achieving the highest standards of professionalism.
The service doesn't stop when you buy from us. With excellent after-sales support and a first-class maintenance service  (including a 24/7 call out), you can feel confident that you're not on your own after the sale goes through.
If you're ready to find out more, get in touch for a no-obligation chat.